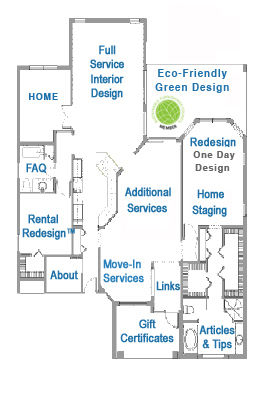 NEED TO MAKE A HOME YOU DON'T OWN
INTO A HOME OF YOUR OWN?

» Staring at stark white walls your landlord says you can't paint and longing for color in your life?

» Hesitant to invest in furnishings for a temporary home you don't own?

» Wondering where you're going to find the space for all your stuff?

Call the experts in Rental Redesign™ !

We put the Design in Redesign!

RENTAL REDESIGN™

THE EXPERTS AT TURNING A HOME
YOU DON'T OWN INTO A HOME OF YOUR OWN!

When it comes to decorating, renters have special needs. Whether it's house rules that restrict your ability to paint or carpet, a lack of space, or simply an understandable reluctance to invest in furnishings for a temporary home, we know it can be a real challenge to turn a home you don't own into a home of your own.

Working hand in hand with hundreds of renters in both apartments and houses, we've mastered that challenge, creating comfortable, inviting and unique living spaces that fit our clients' lifestyles and, most importantly, reflect their personal style.

Whether you want an interior redesign that will work with what you already own, are starting fresh, or are anywhere in between, our Rental Redesign™ services are custom tailored for each and every client to meet your individual needs and create the home you want within your budget.

Why do you need a Rental Redesign™ specialist?

Because whether you're paying a mortgage or a landlord, everyone deserves a place that they can truly call home.

Because whether you're putting down roots for a decade or more - or only planning on staying for a year or two - you should never feel like a visitor in your own home.

And because, if you work with an expert in Rental Redesign™, you don't have to compromise to get sensible solutions to your rental decorating dilemmas.

We put the Design in Redesign!

We bring more than our design-centered approach to interior redesign and our years of experience in full service design to the challenge. The author of the widely-read Rental Redesign™ column, Peggy Berk is the acknowledged expert in the field of rental decorating, working daily with industry sources, ranging from retail stores to decorator showrooms, to uncover design solutions uniquely suited to the needs and budgets of renters.

And when it comes to the things renters have to leave behind, like window treatments, we maintain a vast library and special vendor relationships devoted to high-quality "look-alikes" that will give you the look and feel of the expensive items at sensible prices that really do make sense, even if you're only renting for a year or two.

Like all of our other interior design and decorating services, Rental Redesign™ is available to you as a flat rate one day decorating service, that you can build on as needed, or as full service decorating by Area Aesthetics.

Contact interior designer Peggy Berk for your
Rental Redesign™ at 917-754-6535 or by email at pberk@areaaesthetics.com.

Read some of Peggy's most popular
"Rental Redesign™" columns:

Rental Redesign: The Wide Wide World of White

"One day decorating, home styling, a home or room makeover or an interior refinement - whatever you call it, Area Aesthetics delivers the best in the business! More value, more hands-on involvement, more client education, and, best of all, a not to be missed opportunity for you to work with one of the best designers in the business..."
design,interior redesign for rentals,interior decorator,interior redesign,redecorate,redecorator,redesigner,interior redesign,room makeover,redecorating,one day decorating,interior design,decorating,
Interior Redesign, Decorating redecorate, redecorator, redesigner, interior redesign, room makeover,
redecorating,one day decorator, one day decorating, interior design, decorating,arranging furniture
Peggy Berk, home staging,home therapy,redecorate.com,
Domino magazine,one day decorator,holiday decorating,
interior redesign, redesign for real estate, one day decorating, decorating with your items, redesign
networking, redesign group, interior redesign training,
interior decorating, interior design schools, interior design training, room rearrangement, furniture
arrangement, furniture rearranging, use what you have decorating, design, designers,
designing, designs, redecorate, redecorator, redecorating, one day redecorating, room makeovers, interior
decorator, interior decorators, interior decorating, interior design, interior designer,
interior decorator training, redesign, redesign training, decorating training, consulting, home decorating,
HGTV, home decoration, home decorators, home furnishing, home, home decorators, home furnishings,
home improvements, furniture placement, windows, floor plan, accessorizing, rearrange, re-design

directory, decorate, redecorate, decorating, redecorating, furniture arranging, arrange furniture, furniture placement,use what you have interiors, decorate, decorating, furniture, rearrange furniture, consultant, consulting, budget decorating, quick decorating, instant decorating, use what you have decorating,decorate your home, home interiors decorating, interior design, interior decorating, home decorating interiors, how to decorate your home, how to redecorate your home, interior redesign,one day decorating, decorating with your items, redesign
interior decorating, room rearrangement, furniture
arrangement, furniture rearranging, use what you have decorating, design, designers,
designing, designs, redecorate, redecorator, redecorating, one day redecorating, room makeovers, interior
decorator, interior decorators, interior decorating, interior design, interior designer,
consulting, home decorating,
HGTV, home decoration, home decorators,home, home decorators, re-design