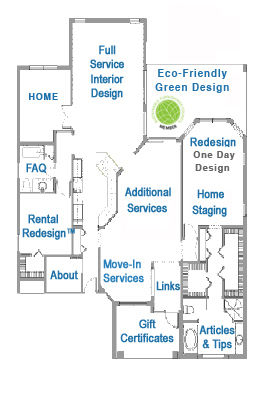 WANT THE DECORATOR LOOK
WITHOUT THE DECORATOR PRICE TAG?

» Merging households, and don't know where to start?

» Downsizing, but nothing fits?

» Your lifestyle changed, but your home got left behind?

» Relocating, but don't know what to take?

» New home, but your furnishings look out of place?

» Special event, and you want your home to look its best?

Or maybe, you just want a fresh new look !


ONE DAY DECORATING

We put the Design in Interior redesign!™

"One day decorating, home styling, a home or room makeover or an interior refinement - whatever you call it, Area Aesthetics delivers the best in the business! More value, more hands-on involvement, more client education, and, best of all, a not to be missed opportunity for you to work with one of the best designers in the business.."

- BEST OF NY, 5/22/06

Interior redesign is an affordable, flat rate one-day decorating makeover and consultation that will help you make the most of what you already own and provide you with a plan that you can use to take your room to the next level at your own pace.

A collaborative process, I work hand in hand with my clients throughout the process with the goal of creating a functional and beautiful room that fits your lifestyle and budget and, most importantly, reflects your personal style.

The one day decorating consultation includes the arrangement of your existing furnishings, art and accessories, as needed, to create an inviting, comfortable environment that can dramatically enhance your home in just a few hours. You also receive a written design plan with everything you need to take your room to the next level on your own timetable within the budget you set.

But we don't stop there. Our design-centered approach - suitable for redecorating rooms full of furniture you want to keep, as well as for empty rooms - is identical to the approach we use for our full service design clients. And indeed, the design plan we prepare for you is the very same type of comprehensive professional design plan we prepare as a blueprint for ourselves when handling full service clients.

It covers every aspect of your room, from floor to ceiling, and includes descriptions of suggested and optional items you might want to add to the room, such as furnishings, window treatments, fabrics, rugs, lighting, artwork and accessories.

And unlike "quickie" redesigns, Area Aesthetics takes the time to include:

* Full Color Consultation - Unlike others who offer only suggestions for white or neutral paint in their plans, Area Aesthetics includes a full color consultation with every room redesign. We work with you to develop your room color scheme, and provide you with color chips, not just for your paint, but for your fabrics, carpets, accessories and other accents, as needed.

* Window Treatment Design - Whether you choose `off the shelf" or elaborate multi-layered custom designs we will spec the entire treatment and prepare your window design worksheets with detailed information that you can use to purchase your treatments.

* Child Safety Survey - If there's a child under the age of three in your home - or you're expecting one - your one day decorating consultation includes a complimentary child safety survey.

* Lifestyle Consultation and Space Planning - There's no point in rearranging a room if these key elements of professional interior design are overlooked. I don't believe in formulas or "mistake-driven" redesign - I design for people and the way they want to live in their homes.

I also provide you with sources where you can purchase items at the best price given your decorating budget. And, should you need painters, carpenters, or electricians, we will be happy to provide you with the names of trusted tradesmen from whom you can solicit competitive bids.

Many redesigners bring only a few days "redesign training" - and generally no background in color, space planning, window treatments, furniture and other key room elements - to the task. They limit their services to working a formula to "fix" common design mistakes or just rearranging your furniture. Area Aesthetics puts years of training and all of its experience designing for full service clients, into your one day decorating consultation. We believe in putting the design into interior redesign!

My goal is not only to help you achieve a wonderful room, but to inform and involve you in the process, by educating you about home decorating and inspiring your own creative muse. Every question or concern you have about the room, down to the tiniest detail, will be addressed during the interior redesign.

And, we don't just hand you a design plan and say good-bye. Ongoing follow-up consultation on your plan is available to you by phone and email at no extra charge until your room is complete.

Should you decide you need more active help in the marketplace with purchases or other implementation services following our one day interior design consultation, Area Aesthetics waives its minimum hourly requirements on follow-up shopping services for our interior redesign consultation clients.
design,interiorredesign,interior decorator,interior redesign,redecorate,redecorator,redesigner,interior redesign,room makeover,redecorating,one day decorating,interior design,decorating, interior refine,Area Aesthetics
Interior Redesign, Decorating, redecorate, redecorator, redesigner, interior redesign, room makeover,
redecorating,one day decorator, one day decorating, interior design, decorating,arranging furniture, arrangement,interior refiner, interior refiners network, interior refiners, interiorrefiners.com, use what you have, Lauri Ward,
Peggy Berk,,redecorate.com,
one day decorator,
interior redesign, redesign one day decorating, decorating with your items, redesign
interior decorating, room rearrangement, furniture
arrangement, furniture rearranging, use what you have decorating, design, designers,
designing, designs, redecorate, redecorator, redecorating, one day redecorating, room makeovers, interior
decorator, interior decorators, interior decorating, interior design, interior designer,
interior decorator, redesign, consultation, home decorating
HGTV, home decoration, home decorators,home, home decorators, furniture placement, windows, floor plan, accessorizing, rearrange, re-design

Lauri Ward, lauri ward Laurie Ward, laurie ward,decorate, redecorate, decorating, redecorating, furniture arranging, arrange furniture, furniture placement,use what you have interiors,decorate, decorating, furniture, rearrange furniture, consultant, consulting, budget decorating, quick decorating, instant decorating, use what you have decorating, ddecorate your home, home interiors decorating, interior design, interior decorating, home decorating interiors, how to decorate your home, how to redecorate your home, interior redesign, redesign, one day decorating, decorating with your items, redesign
interior decorating, interior design,room rearrangement, furniture
arrangement, furniture rearranging, use what you have decorating, design, designers,
designing, designs, redecorate, redecorator, redecorating, one day redecorating, room makeovers, interior
decorator, interior decorators, interior decorating, interior design, interior designer,
redesign, consulting, home decorating,
HGTV, home decoration, home decorators, home furnishing, home, home decorators, home furnishings,
furniture placement,floor plan, rearrange, re-design